Tower
Overlooking the Pacific, thoughtfully created, and dynamic by design, Ālia represents a new evolution in luxury condos in Honolulu. The culmination of all that has come before, reimagined for what lies ahead. From the tower's physical structure to the inspired interiors and landscaping, leading figures from Hawai'i's creative fields have carefully curated residences that will become an icon in the city for generations to come.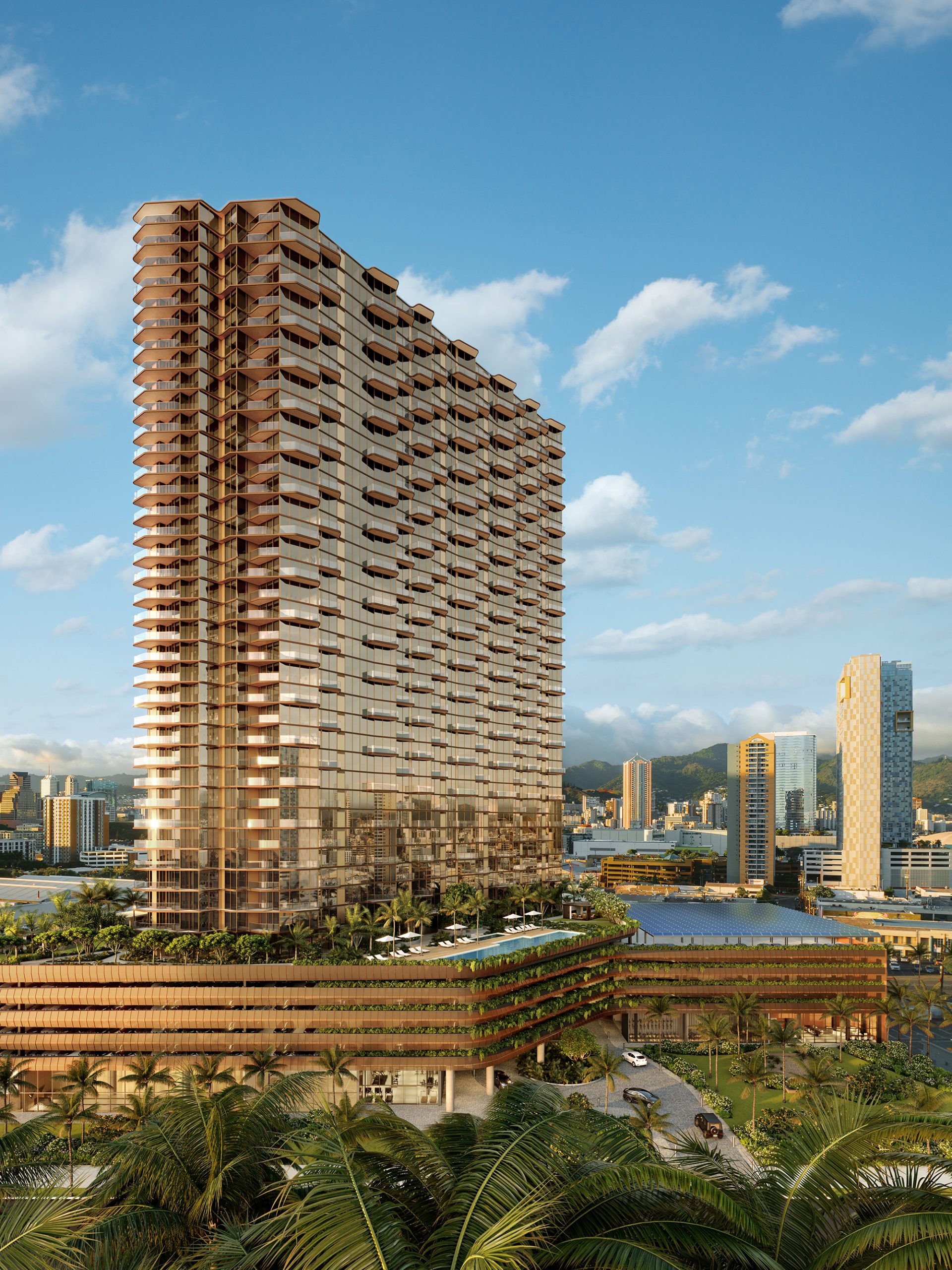 Reaching New Heights
We believe that the next evolution of luxury is sustainable. Surrounded by lush native landscaping and oriented for expansive views of Diamond Head and the Pacific, it is only fitting that Ālia's internal structure is as tuned to nature as its exterior. The end result is an enhanced living experience that carefully considers the well-being of both residents and nature.
A Beacon for Responsible Design
Utilizing advances in innovation and implementing place-based solutions, Ālia has been designed to be the most sustainable new residential tower developed in the state of Hawai'i.
Passive Cooling

Situated to work with the natural environment, Ālia's characteristic undulating weave pattern works with the trade winds while mitigating solar exposure, providing the opportunity for passive cooling.

Water Reuse

Water is one of the most vital elements of daily life, so it is imperative that we maintain a healthy relationship with our access to it. We've installed a state-of-the-art greywater treatment system that optimizes our water usage.
Chilled Water System

A centralized chilled water system and individualized handling units ensure that Ālia minimizes its utility usage through advances in innovation.

EV Charging Ports/Car Share/Micromobility

Whether you need to recharge your electric vehicle, get a ride in a convenient EV car share, or easily access micromobility, Ālia makes sustainable transportation hassle-free.

Photovoltaics

Extensive photovoltaic panels allow Ālia to harvest a substantial portion of its energy from Hawai'i's abundant sunlight.
An Urban Oasis
With abundant open space and verdant landscaping, residents will thrive in an environment that feels like a private lush ecosystem.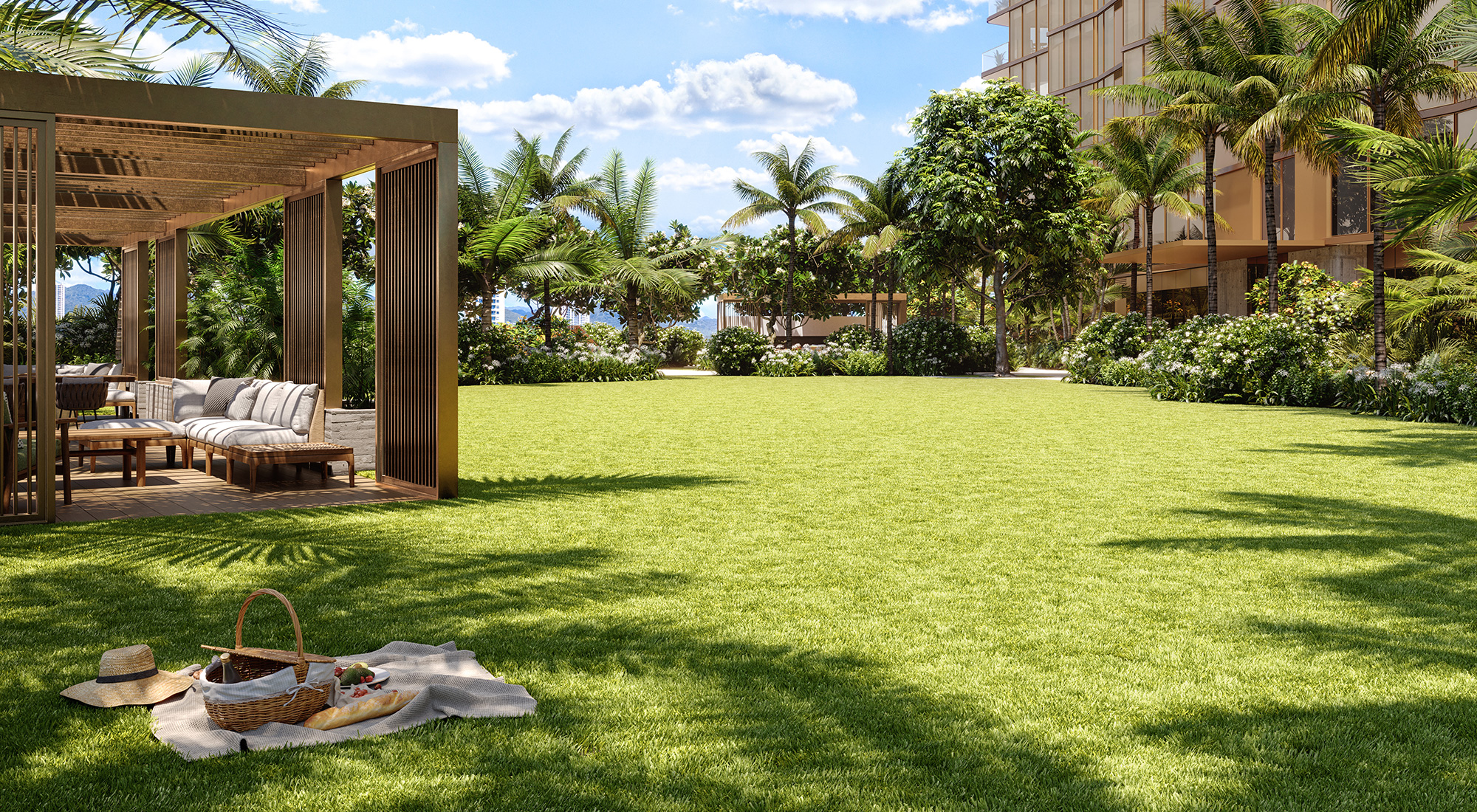 Positioning
Thoughtfully designed to work with O'ahu's natural elements, Ālia's iconic angled positioning and woven exterior pattern is about more than just aesthetics.
Passive Cooling
The weave design works with the building's positioning to create shade that reduces the heat load and bring cooling trade winds into residences through entry points that generate gentle airflow.
Solar Orientation
Ālia's angled positioning means solar exposure is primarily limited to two sides of the building and heat gain can be mitigated with the weave façade and high-performance glass.
Sun Angle at Noon
Ālia's angled positioning means solar exposure is primarily limited to two sides of the building and heat gain can be mitigated with the weave façade and high-performance glass.
Heat Gain
Without Ālia's iconic silhouette acting as a barrier, heat gain is at its highest. With six feet of overhang provided by the weave, heat gain is strategically reduced.
Trade Winds
Pivoting Ālia 65 degrees off true north aligns it with the trade winds to passively cool residences.
Weave Plan Logic
A defining aesthetic feature of Ālia, the characteristic woven façade serves a pivotal role in reducing energy consumption, providing each residence with enhanced shading and passive ventilation.
Ocean Views for All
The building's positioning and design are also intended to maximize the number of residences with ocean views.